900 Washington Blvd.
The Lillian (87 Franklin Street)
65 Prospect Street
Stamford Campus housing has a variety of living options available ranging from studio apartments to two bedroom apartments. There are 2 Hall Directors and 14 Resident Assistants to offer students support.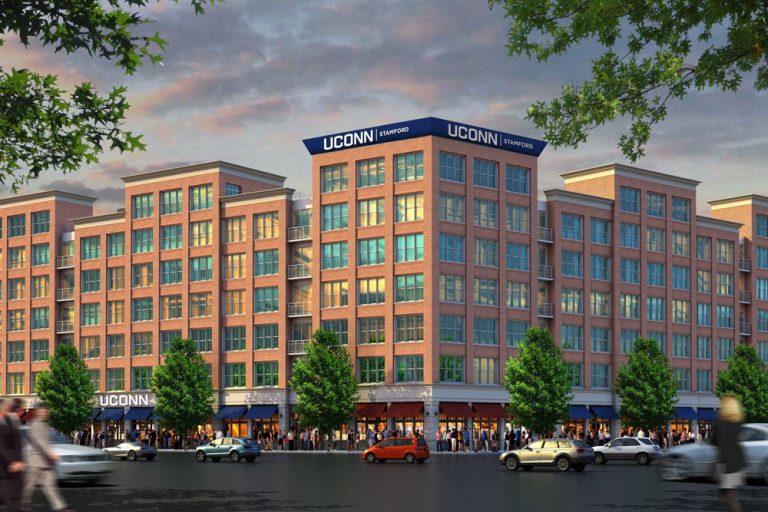 Full kitchen
Includes dishwasher, stove, fridge and microwave
Room Furnishings
Bed - XL Twin (80'' x 36")
Desk/writing surface
Chair
Dresser
Living room
Includes couch, chair, coffee table, dining table and chairs
Recreation
Study space on each floor
Game rooms
Recreation room, 2nd floor
Parking
Limited spaces are reserved for an additional cost
Laundry and bathroom
In-apartment, shared by apartment-mates
Utilities
Internet, Hot Water, A/C included in rate
Mailroom
First Floor of 900 Washington Blvd.
2023-2024 Room Rates
Housing rates at the Stamford campus have been set to be as affordable as possible and in alignment with housing rates at the Storrs campus. The three different rates at Stamford are based on two criteria; the amount of privacy for a student in the apartment, and the overall square footage of the apartment. Students should expect to share a bedroom with at least one other person and an apartment with students in other bedrooms. There are no single person apartments at Stamford and the limited amount of single bedrooms within an apartment are held for students with medical accommodations. Because there are multiple apartment styles at Stamford, specific rates per the amount of roommate/apartment are not possible.
$5,571/semester
$11,142/year
Standard Shared Bedroom
Smallest overall apartment square footage and typically 2 other roommates and 3-5 apartment mates in other bedrooms
$6,757/semester
$13,514/year
Premium Shared Bedroom
Medium overall apartment square footage and typically 1 other roommate and 3-5 apartment mates in other bedroom/s.

$7,057/semester
$14,114/year
Penthouse Shared Bedroom
Highest overall apartment square footage and typically 1 other roommate and 2-4 apartment mates in other bedroom/s.

Location
900 Washington Blvd
Stamford, CT 06901

Please note that this is the physical address for the building not the mailing address.
65 Prospect Street
Stamford, CT 06901