Sample Housing Applications
Fall Application
Please note these are samples and the dates or prices are not accurate.
Spring Application
Please note these are samples and the dates or prices are not accurate.
Summer Application
Please note these are samples and the dates or prices are not accurate.
Residency Requirement Information
The University of Connecticut considers the on-campus living experience an integral and necessary part of the total education of its students. The Residency Requirement has been developed with great consideration, as research has shown that first and second year students who live in residence halls build closer relationships with faculty, staff and their peers; become more involved; and are generally more satisfied with their overall university experience.
Meningitis Vaccination Requirement
Connecticut State law requires that any college or university student under 29 years of age residing in university owned housing be vaccinated against meningitis. Students must submit verification of the meningitis vaccination during their enrollment at the University of Connecticut.
Canvassing, Posting & Solicitation
Canvassing is prohibited in and around the residence halls and apartment facilities, except for the purposes of political canvassing. Posting of material(s) is permitted in the residence halls and apartments. Solicitation is strictly prohibited in and around residence halls and apartment facilities.
Inclement Weather Preparation
The following recommendations should be followed when inclement weather threatens the Storrs campus.
Keep doors and windows closed.
Use flashlights in the event of power outages. Candles are not permitted in the residence halls and pose a fire safety hazard.
Keep cell phones charged and refrain from using during the inclement weather to avoid overwhelming local cell phone towers.
Use stairs. Elevators will stop operating in the event of a power outage.
Check dining.uconn.edu for the most up to date information regarding dining halls.
Check alert.uconn.edu.
Bias-Related Incident Reporting
A bias-related incident is an incident that negatively targets, intimidates, or threatens an individual or group due to race, ethnicity, ancestry, national origin, religion, gender, sexual orientation, gender identity or expression, age, physical, mental, and intellectual disabilities, as well as past/present history of mental disorders.
Reporting a Bias-Related Incident to Residential Life
Report the incident to a Resident Assistant (RA)
Call the Hall Director On-Duty at (860) 933-2220 and state that you need to report a bias-related incident
Report an Incident Online
Many departments, including the Department of Residential Life, can receive reports of bias-related incidents. If you are not sure how to make your report, visit the University's InForm website to learn about options.
Residential Life
Incident Reporting Form
Community Standards
Incident Reporting Form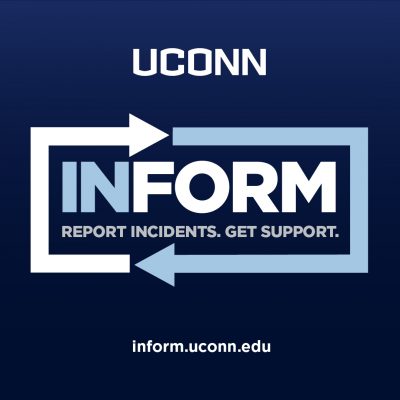 Speech and Civility in a University Setting
Discriminatory actions and harassment are not tolerated at the University of Connecticut and individuals who are victims of discriminatory actions or harassment based on bigotry or bias are protected through the Student Code and Connecticut State Department of Education.
For the complete policy related to the Bias-Related Incident protocol, please visit the Dean of Students website.